FOREWORD
I was given the honor to write a foreword to the first edition of "A Primer of Practical Ultrasound" in 1995. There have been significant advancements in diagnostic ultrasonography since then and it has evolved into a subspecialty in its own right. The practice of Medical Ultrasound is no longer simple or limited in its scope. Its role in diagnostics is continuously expanding given its advantages of being a quick, safe, non-invasive, real time and easily accessible imaging modality. In fact, it would not be unreasonable to state that ultrasound might soon become as indispensible as the stethoscope in clinical examination. A significant number of diagnostic procedures, such as thoracocentesis, joint aspirations, ascitic taps, central vascular access, and so on, are always performed under ultrasound guidance. Ultrasound use has now become ubiquitous, from the first responder ambulance in the community, to the emergency room, general wards, anaesthetics, operation theatres and intensive care units. Ultrasound machines have also been sent into space to assess the physiology of astronauts and cosmonauts. In the battlefield, pocket sized machines are an essential complement of army medics.
 An instructional manual in practical ultrasound skills is uniquely relevant in our current medical practice. Richly illustrated with thousands of images, each with detailed explanations and replete with tricks-of-the-trade and practical tips that one learns with long experience are some of the strengths of this book. The addition of guidelines, management strategies and extensive differential diagnoses are a combination that is not very common in imaging texts.
This book would be equally useful for medics, sonographers, and others who practice sonography in a primary care setting as well as the imaging specialist.
This book establishes a benchmark that would be difficult to surpass any time soon.  
Dr. A. N. Khan
M.B.B.S, LRCP (London), M.R.C.S (England) D.M.RD. (England), Cert HSM., M.H.S.M. (U.K.), F.R.C.R (U.K.), F.R.C.P. Edinburgh.
Consultant Radiologist, North Manchester General Hospital.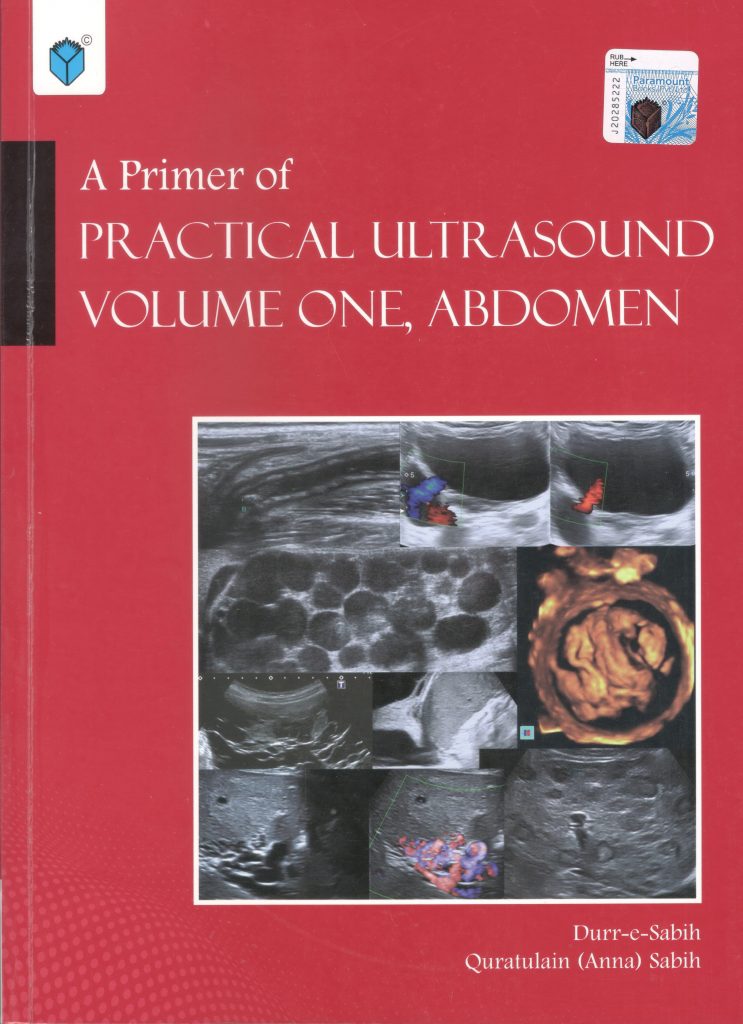 Dr. Durr-e-Sabih established the first Department of Ultrasound at the Multan Institute of  Nuclear Medicine and Radiotherapy in 1984. This was the first department of ultrasound for Nishtar Medical College and Hospital and all of South Punjab. He soon coined a new medical term for ultrasound diagnosis of hydatid cysts that is now accepted in literature.  He established the first thalassemia Screening Service for south Punjab and invented a device to help with Chorionic Villous Sampling. A patent was granted to him for this. He proposed an Artificial Intelligence Enabled Computer Software for analysis of liver texture and surface regularity using ultrasound. The publication on this is very highly cited in the medical texture analysis literature. He proposed and created a prototype of an ultrasound training simulator.
He is an IAEA expert and is Chair of the Asian Nuclear Medicine Board (ANMBoard.org).
He was awarded an FRCPE in recognition of his contribution to Ultrasound and Nuclear Medicine by the Royal College of Physicians, Edinburgh. More recently, he  was elected to a fellowship of the American Institute of Ultrasound in Medicine and awarded the much coveted FAIUM.
He has published over 50 papers, 9 editorials, several book chapters and 12 books.
Dr. Durr-e-Sabih is a Nishtarian from N-24
Dr. Quratulain (Anna) Sabih is an Assistant Professor of Breast Oncological Surgery at the Pittsburgh University, Pennsylvania USA.  
Dr Anna Sabih  pursued a Surgical Residency at the University of New Mexico in Albuquerque, USA. She earned  her Board Certification within weeks of completing her surgical residency and was elected as  "TopDoc" by the Albuquerque Journal. She loves to teach and has received several best-teacher awards. She has recently finished her fellowship in Breast Oncological Surgery at the Rosswell Park Cancer Centre, Buffalo, NY.
Dr. Quratulain Sabih is a Nishtarian from N-51